Tax Credits
Your investment in Catholic education today provides scholarship funds for tomorrow's students.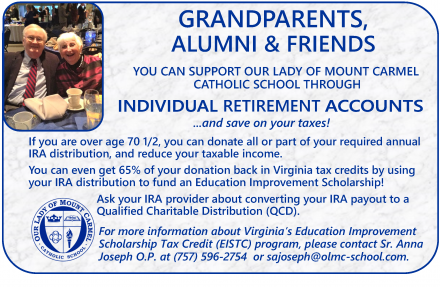 Virginia's Education Improvement Scholarships Tax Credits (EISTC) Program provides a 65% return of your donation in Virginia state tax credits.
What's great about tax credits?
They directly reduce your tax bill.

Individual donations starting at $500 are eligible.

All business donations are eligible.

If you choose to itemize, you will also receive federal and additional Virginia state tax reductions for charitable organizations.
When you donate appreciated stock, you also eliminate capital gains tax.
Get started to receive your tax credit this year!
Call Sister Anna Joseph @ 757-596-2754 or print off the Letter of Intent and Pre-authorization Form to request tax credits.  No donation is made until the approval letter comes to you from the Dept. of Education
Deadlines for 2019 gifts:
Friday, December 13 for mailing paper forms to MPSF or faxing the forms to MPSF at (804) 358-9159.
Friday, December 27 for e-mailing the forms to MPSF@richmonddiocese.org
Learn more:  EISTC_fact_sheet_OLMC
2019-EISTC OLMC-PDF (This presentation includes an explanation of the simple process to receive your tax credits.)
Fillable EISTC Preauthorization 2019