Shine Like the Stars Dinner & Auction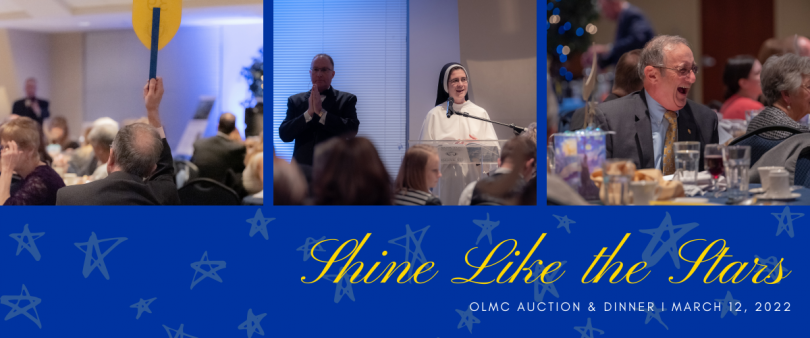 See you on March 12, 2022!
Our auction begins in…
We need your help! The OLMC School Auction is in need of donations for our silent auction. The success of our auction is dependent on the generosity of our donors. Would you please consider donating one or more of these items to benefit our students and school?
Gift cards or gift certificates (i.e. restaurants, physical stores, online stores, spas, experiences, gas, etc.)
Hand-made items
Catholic or Christian art and gifts
Tools (new and in packaging)
Kitchen appliances (new and in packaging)
Electronics (new and in packaging)
Jewelry
Purses, bags, or luggage
Antiques
Home decorations
Seasonal decorations
Toys, crafts, or games
Books
Fine wine and spirits
Experiences (i.e. round of golf, skydiving, bowling, cooking lessons, wine tasting, art lesson, etc.)
Sporting goods and equipment (new and in packaging)
Swag
Vacation Rental
Hotel or resort stay
We invite our OLMC families and friends to ask their circle of contacts (friends, families, and business contacts) for donations or sponsorships.
All donations brought to the front office before Friday, December 10, 2021, will get your child an out of uniform for Friday, January 7, 2022.
The donation form (attached) must accompany each donation.
Please email us at auction@olmc-school.com with any questions you may have concerning donations or the auction. No donations will be turned away.
Thank you in advance for your generosity and continued support!
Donation Form 2022_Fillable
Request for Donations Letter
Sponsorship Letter 2022
Sponsorship Packages 2022