Patron Saint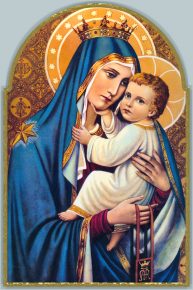 The Feast of Our Lady of Mount Carmel is celebrated each year on July 16.
Mary, the Mother of God, has a multitude of titles under which she is invoked for various needs.  When the parish and school were founded by the Carmelite Order of Priests, the good Fathers entrusted the enterprise to Our Lady under a most appropriate title.  Through the past 66 years, we have invoked Our Lady's protection and guidance under this title for the children, families, faculty, and staff of Our Lady of Mount Carmel School.  She has responded with motherly protection and love in every instance.

The title "Our Lady of Mount Carmel" first derives from the experience of the prophet Elijah who, on Mount Carmel, challenged the worshipers of false gods to a contest (see 1 Kings 20-40).  They were to call on their gods and Elijah would call on his God, and whichever God was able to light the fire to begin the holocaust was proved true.  Elijah taunted his competitors, but of course their gods could not deliver.  After drenching his own wood and holocaust with 12 buckets of water, Elijah called on the Lord who, at once answered with fire.  The God of Elijah was victorious.  Ever since the time of Elijah, the mountain has been considered sacred and hermits have always occupied a spot on the mountain where they were devoted to a life of austerity and prayer.

When the Carmelite Order was established many centuries later, the priests adopted Our Lady of Mount Carmel to represent their spirituality – both Marian and deeply contemplative.  The Brown Scapular, which legend tells is a gift of protection from Our Lady to St. Simon Stock, a Carmelite priest, is the most popular devotion associated with Our Lady under this title.

There are a host of promises that go with the pious wearing of the Brown Scapular, the first of which is eternal salvation through the intercession of our heavenly mother.