Military Families
OLMC Military Liaison Kathy and her husband Bob have enjoyed a 27 year, active duty military career, moving their four children multiple times.  For experienced assistance and support for military families wishing to enroll students at OLMC, please contact Kathy McKenna at 757-817-2053 or email kmckenna@olmc-school.com.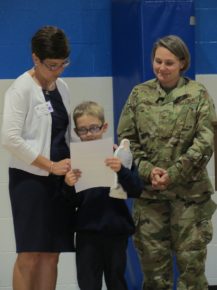 During your transition, our Student Ambassadors will provide friendly peer support for your student. These teacher nominated, administration selected group of Student Ambassadors will help welcome your child into the Our Lady of Mount Carmel School community!
Additionally, our onsite school counselor is available to help your military child with concerns such as transitioning to a new school and other related PCS challenges, apprehensions during periods of separation of a deployed parent, as well as other related military life/student life concerns.
For military assistance outside the immediate OLMC School community, you can visit Military OneSource or the Virginia Department of Education Military Families page to answer many of your military family related concerns:
https://www.militaryonesource.mil/
http://www.doe.virginia.gov/support/student_family/military/index.shtml
https://richmonddiocese.org/office/catholic-schools/
(purple sidebar: Military Family Support)