Bus Information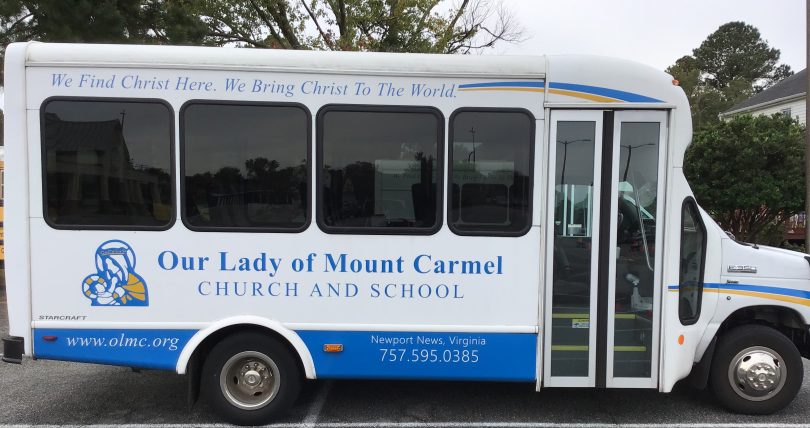 Our Lady of Mount Carmel School's bus service functions to safely transport students to and from school. We have centralized bus stops to provide a cost effective option for families desiring to use the services.
Bus interest forms are available to be completed during the enrollment phase of admissions.  This form is also available through the main office or under "Resource Documents" accessed through the ParentsWeb portal.
Bus Coverage
The OLMC buses cover one route around the Peninsula and one on the south of the James River Bridge, including areas in Suffolk.  Routes are determined each August determined on ridership. The bus stops at centralized locations.
Bus 5 – Southside Bus Route stops at Eagle Harbour, Founders Point, and Governors Point.

Fees (for 2023-2024 school year)
| | | |
| --- | --- | --- |
| Number of Riders | One Way | Two Way |
| 1 Rider | $1,700 per year | $2,020 per year |
| 2 Riders | $1,975 per year | $2,305 per year |
| 3+ Riders | $2,200 per year | $2,550 per year |
Payment options include payment in full or monthly payments paid over ten months from August through May.
Occasional Rider Policy and Procedures 
In addition to annual daily bus service provided to Our Lady of Mount students, the bus service also offers transportation to and from school on an as needed basis.  The following applies to the occasional rider:
An occasional rider may utilize any Our Lady of Mount Carmel bus route, but can only be picked up or dropped off at existing stops.  There are currently two bus routes on the Peninsula and one that crosses the James River.  Maps showing the routes and stops are located above and include estimated times for each stop.

Tickets may be purchased in the OLMC Business Office from Mrs. Kiser.  The cost is $10 per one-way ride or $40 for five one-way rides.  Cash or checks are accepted.  Checks should be made out to the Mount Carmel Bus Company.  Tickets are non-refundable and must be utilized in the same school year they were purchased.  With your first purchase in any one school year, you will be required to fill out and sign the OLMC bus rider contract.

Tickets must be completed in full and turned into the bus driver upon entering the bus.  A student without a ticket or a ticket that is not filled out in full, will not be allowed to ride.  Ticket information will include the rider's full name, parent's or guardian's full name and signature, emergency contact phone number for parent or guardian, date of ride, and drop off point.
If you are interested in using the Our Lady of Mount Carmel bus service, please contact Mrs. Kiser at 757-596-2754  x134 for more information.