The Cat in the Hat Came Back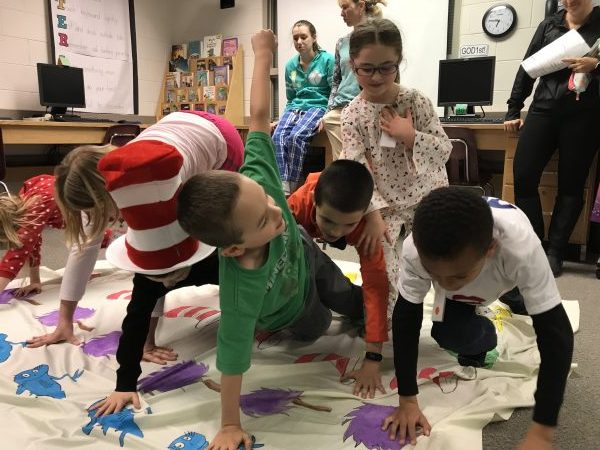 The beloved author Theodore Geisel once told his readers, "Reading can take you places you have never been before." On March 2nd, reading took our primary grade students to one of their favorite places: Dr. Seuss Night at OLMC School.
For several years, OLMC has thrilled our PreK through second grade students – along with their siblings, parents and teachers – by hosting a spectacular celebration of Dr. Seuss stories and characters. They join with millions of schoolchildren around the world to celebrate this birthday of Dr. Seuss, aka Theodore Geisel.
Under the direction of librarian Jennifer Kunz, OLMC School is transformed into a wonderland of pajamas, Seuss character costumes, artwork and games. "It is a huge amount of work and effort," says Mrs. Kunz. "But if it inspires even one child's love of reading, then I consider it a job well done."
Far more than "one" child has been inspired to read due to this celebration; Mrs. Kunz reports that the first year she organized the events, students and guests filled the school library. But in 2018, the overwhelming attendance meant taking over the entire middle school building!
Mrs. Kunz says she spent three months planning and producing Seuss night, with the help of dozens of volunteer teachers, parents and Girl Scouts. When March 2nd arrived, students came back to school at night, swapping their school uniforms for their jammies or Seuss character costumes. They were assigned a rhyming word badge and a middle school guide to lead them for the next two hours, following a creatively designed map of stations. Each station featured a game, story or snack for the children to enjoy, including "Dr. Seuss Twister," "I Spy Dr. Seuss" and "Horton's Egg Popping."
When asked about the most memorable moments of the celebration, the volunteers had many, especially seeing the joy and excitement on the children's faces.  Mrs. Kunz also shared her decision to move story time to the very end of the evening: "Part of me was worried that the children wouldn't be able to gather themselves and sit calmly after so much excitement.  But as I sat there and pulled my first book to read aloud, every single one of those young faces was shining back at me!  They couldn't wait for the story to begin!"
"I find no greater joy than sharing the love of reading with kids."
Mrs. Kunz encourages all parents to learn "how much joy and lifelong memories they can get just from reading to their child." After spending 15 years as a public and school librarian, she happily considers that task to be a privilege: "I find no greater joy then sharing the love of reading with kids. I have the most wonderful job in the world!"
April 25, 2018 by Austin Farinholt in
Community