Bring Your Service Member to School Day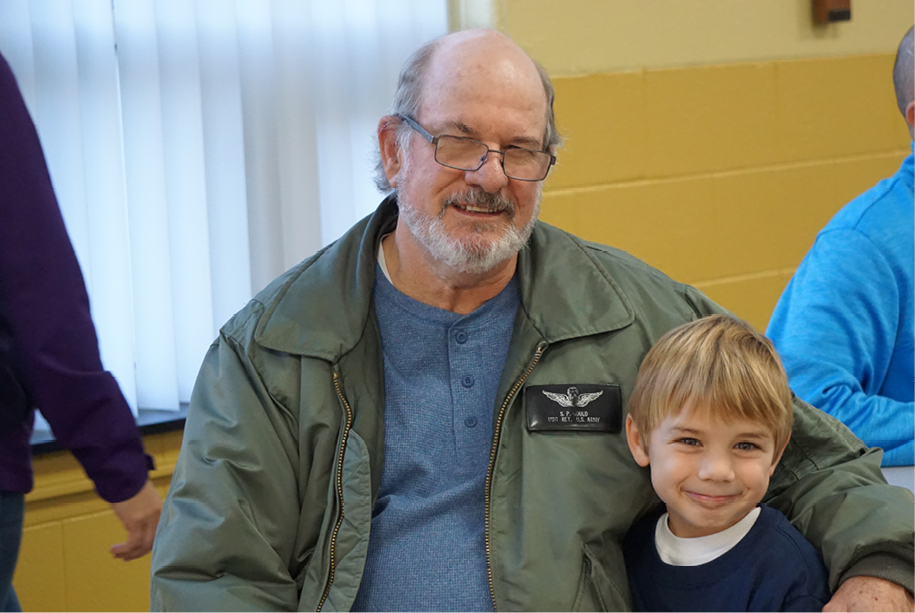 To honor our OLMC military – active duty, retired, reserve and veterans – our school hosted a special celebration for Veterans Day in November. More than 50 personnel representing all six branches of the armed forces attended our "Bring Your Service Member to School" event.
Kathy McKenna, emcee and OLMC Military Liaison, coordinated the event with a team of enthusiastic volunteers. "Our goal was to convey gratitude," she said. "We wanted not only to thank our military for their service, but we also wanted to thank them for giving OLMC the opportunity to teach our students the importance of the virtue of patriotism."

More than one-third of the currently enrolled students at OLMC School are in some way connected to local military members. School teachers asked some students to write about the importance of our troops and the meaning of patriotism, while other students created military-themed posters and artwork to display in our hallways. Volunteer parents helped with setting up and refreshments.
Sr. Maria Frasatti welcomed our guests, followed by an opening prayer led by our middle school students. Our Pre-K, kindergarten, first and second grade students saluted our guests by leading the Pledge of Allegiance, singing uplifting songs and reciting patriotic poetry. Two of our fourth grade students wrote and presented their own acrostic poems on patriotism, while two of our eighth grade students delivered personal reflections on what it means to be a child of a military family. The program concluded with a flag-folding ceremony by the OLMC Boy Scout troop, a musical presentation by Sr. Anna Sophia and Sr. Mary Josephine, and a reflection and prayer from our pastor, Fr. John David Ramsey.
"As a Catholic school committed to serving others in the geographical heart of a large military area," commented Mrs. McKenna, "it's important that we support our military communities and embrace our families as their children transition in and out of our school. We're creating a database to identify, know, appreciate, and serve those families who serve our great nation. If we've somehow missed a family, please let us know so we can welcome you to Our Lady of Mount Carmel School."
From all indications, our military greatly appreciated their warm OLMC welcome. As one of the attendees commented, "I was humbled by the experience this morning. I have never been honored so much as I was today and with my grandson present, as well. This school and all the people in it are so nice; it brought tears to my eyes."
December 16, 2017 by Mount Carmel in
Service