School Science Fair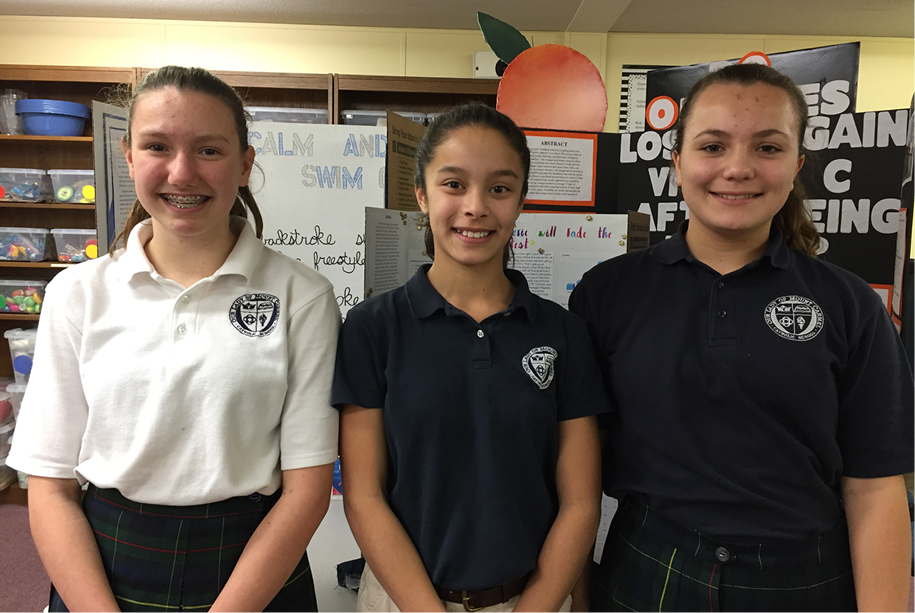 What do Jell-O, crabs, cookie sheets and driverless cars have in common? Our OLMC school students know the answer: these were just some of the topics they presented at the school's annual science fair on Nov. 14.
Now in its seventh year, this academic event is represented by students from all grade levels. The Pre-K through fourth grade students complete increasingly complex class projects, learning to make observations, ask questions and create hypotheses. Our eighth grade students take their entries beyond our school, creating data analysis projects for the GLOBE International Virtual Science Symposium in the spring of 2018.
But the fifth, sixth and seventh graders take over the school, lining the hallways with detailed posters displaying the results of their individual controlled experiments.  For 2017, 69 students prepared projects for judging by volunteers with scientific expertise, including professionals from the American Institute for Aeronautics and Astronautics (AIAA) and from the Navy and Marine Corp Public Health Center.  These judges use rubrics to evaluate the science projects and determine overall winners for each category and for the overall school. Judges ask questions of the students to help determine how much they understand their projects, what obstacles the student overcame and what they might do differently next time.
OLMC School is proud to have Mrs. Angela Rizzi as our Science Fair Director and science teacher. Mrs. Rizzi, who is also an education advisor for the 2017-2018 GLOBE Student Air Quality Campaign with NASA, is excited about all the benefits our students receive by participating in the annual fair: "The science fair provides the students an opportunity to explore something they are interested in and practice with a controlled experiment." She is especially excited that this event "allows the students to see that it is okay if their hypothesis is not correct. They can see how to overcome issues and improve their experiment for future trials. This is more realistic than many of the labs presented in textbooks."
All of our winners have now qualified for application to enter the Tidewater Science and Engineering Fair, the regional science fair for this area. TSEF will be held on March 10, 2018. Winning students from around the area will be competing for chances to apply to the National Broadcom Science Fair and for monetary prizes.
Congratulations to our OLMC winners!
December 16, 2017 by Mount Carmel in
Study