NASA Scientists Land at OLMC School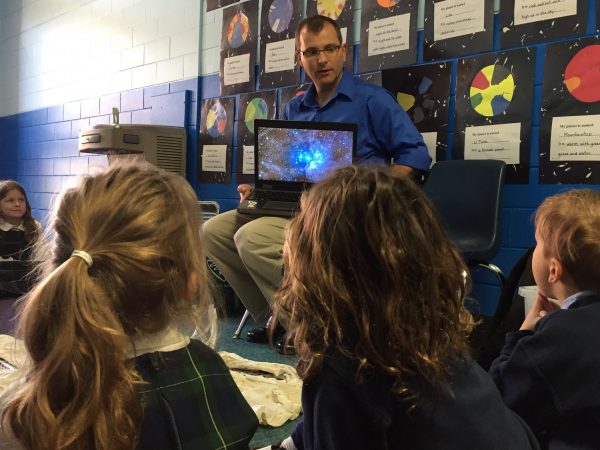 Kudos to our intrepid OLMC teachers, who recently engaged local NASA scientists to visit Kindergarten and middle school classes for hands-on scientific studies! The school's proximity to the Langley Research Center, combined with our learning partnership with NASA educators, continues to reap wonderful academic opportunities for our students.
On Jan. 26, our 24 kindergartners took a "trip into space" with NASA Scientist Dr. Tom Drozda, also known as "Dad" to 6th grader Bella Drozda and 4th grader Henry Drozda. In his work at NASA, Dr. Drozda studies ways to design hyper-sonic engines used on vehicles to access space.
Despite his busy schedule, Dr. Drozda always makes the time to visit OLMC to talk about the importance of NASA's projects. The kindergartners' recent unit on space provided the perfect opportunity for teacher Annie Kocinski to invite to talk with our students.
To the thrill of everyone, Dr. Drozda talked about NASA's current exploration missions and enlisted the students' participation in a balloon rocket demonstration and moon crater experiment. He also brought an artifact kit containing components of an astronaut's spacesuit used for the moon landing missions. For their participation and attentiveness, each student received a thank you bag containing more information about NASA including a space-themed activity book. These reinforce key concepts that the kindergartners had learned about space exploration.
"One of the best parts of visiting classrooms," says Dr. Drozda, "is the excitement I see in the eyes of this next generation of young scientists. I'm also amazed at their insightful questions and their level of knowledge at this young age."
Just three weeks later, four members of the NASA/Langley Research Center Science Education Team visited our middle school, as 20 OLMC students presented their team research projects about aerosols to this esteemed team of scientists.

Under the mentorship of OLMC and NASA educator Angela Rizzi, along with Dr. Margaret Pippin, lead scientist for the GLOBE Air Quality Student Research Campaign, the students collected, analyzed and interpreted data on Aerosol Optical Thickness (AOT).  Two teams investigated whether the amount of aerosols increases throughout the day; another team researched the influence that wind direction may have on levels of AOT; a fourth team compared AOT data collected by two other schools (in Dearborn, MI and Mendham, NJ) to their own AOT data to prove their hypothesis that AOT levels are higher in urban areas when compared to suburban or rural areas; and finally, another team presented their findings after collecting data at OLMC's carpool area, where they expected to see increased AOT levels.
Our middle school students not only presented their research results and posters but also answered questions from the panel about source origins and validity, as well as the importance of technological collaboration when working as a team. Our budding scientists are now preparing to submit their research reports to the GLOBE 2018 International Virtual Science Symposium.
Thanks to creative thinking and collaboration on behalf of our teachers, OLMC students continue growing in their understanding of our world and the ways they can contribute and make a difference.
April 25, 2018 by Austin Farinholt in
Study