OLMC Saints Alive!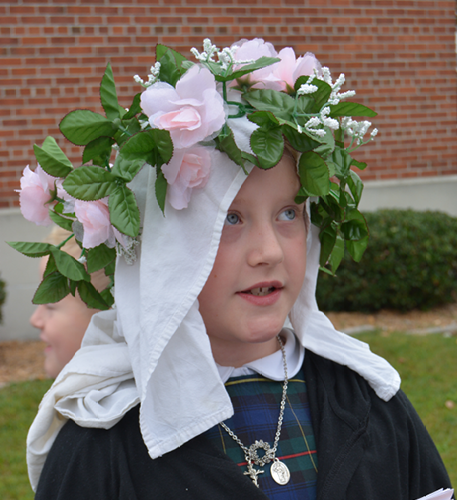 When November 1 dawns at OLMC School each year, our halls come alive with saints as our fourth-grade students dress in costumes representing their favorite holy heroes.
Each year, fourth-grade teachers Mrs. Karen Domzal and Ms. Belinda Scholl provide their students with computer time for research assignments to learn more about our Church Triumphant. Each child chooses a saint to read about and report on. The lives of such saints as Therese, Maximilian Kolbe, Pope John Paul II, St. Patrick, Teresa of Calcutta and many more are explored. According to Mrs. Domzal, "What better way to learn how to be a saint than to learn from the saints themselves? This is the students' opportunity to learn that saints are just like us. They all had their struggles and trials."
As always, this year's assignment integrated religion and writing, along with typing and public speaking. After hours of preparation, All Saints Day arrived. The fourth graders invited their parents and the entire student body to tour the Hall of Saints after celebrating Mass. Wearing costumes and bearing props, students gave animated oral reports to visitors on the lives of their chosen saints, based on their written reports.
Parents found the students' enthusiasm contagious, reported Mrs. Domzal. "Our primary purpose is to increase in the students a devotion to the saints and a desire to grow in holiness for themselves and others, and our children certainly demonstrated this for everyone present."
 Most important, says Mrs. Domzal, was the prayerful attitude the children showed for their chosen saints: "In learning to ask their saints to pray for them, the students also learned they themselves could pray with the saints above. They better understand that the saints are best friends who are always ready to join us and help."
December 16, 2017 by Mount Carmel in
Prayer