Empty Bowls, Full Hearts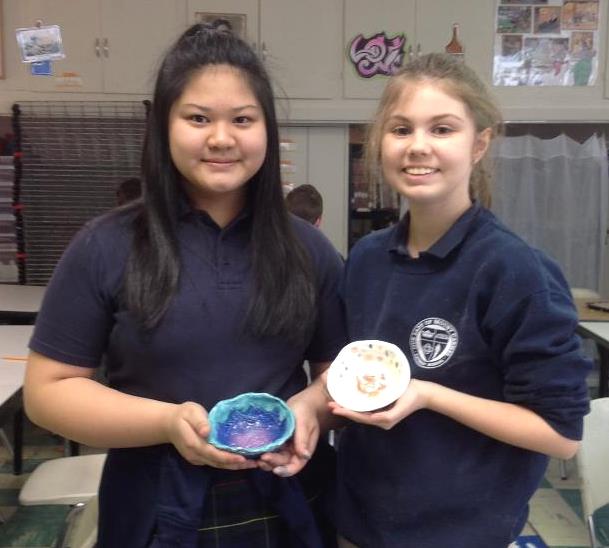 Ludwig van Beethoven once said, "Only the pure in heart can make a good soup." And if you ask the staff of the Virginia Peninsula Empty Bowls (VPEB) agency about our middle school Scripture class, they might tell you that "Only the generous in heart can make a good soup bowl."
OLMC 7th and 8th grade Scripture students contributed artwork last month to the annual fundraising event for the local Empty Bowls agency. The students were inspired to help after a visit from VPEB volunteer Linda Haugh. She explained to the students that the Empty Bowl project began in Michigan in 1990, as a way to draw attention to the plight of hungry Americans. Since then, the concept has expanded across the United States, raising millions of dollars in donations for hunger-fighting agencies.
The concept is simple:  local artists create ceramic bowls and donate them to the annual soup and bread supper. Patrons purchase tickets in advance and attend the dinner; a simple meal is eaten and artists' bowls are purchased to raise additional money. All proceeds from these events are used to feed the local poor.

Ten of our students created lovely ceramic bowls to help fight hunger in Hampton Roads. Some used forms to hand-shape their bowls, while others used clay coiled into ropes. The students fired their bowls, applied glazing and fired them a final time. The creations were then delivered to the agency for inclusion in its annual dinner.
OLMC art teacher Lauren Rosenbaum, who managed the preparation and delivery, saw this event as an opportunity to merge service with talents: "I think the most valuable part of the whole experience was the chance to be part of something larger. There are so many needs right here in our community. It is great to be a small part of helping alleviate hunger in a creative way!"
April 25, 2018 by Austin Farinholt in
Service