OLMC Looks Like…ME!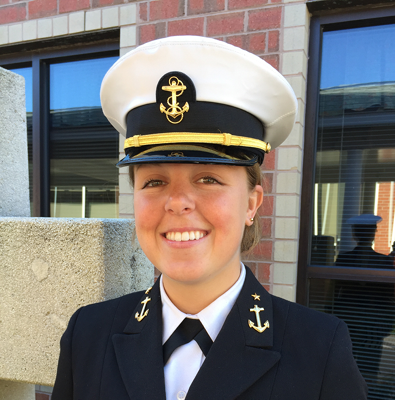 Our Lady of Mount Carmel School is proud to announce the launch of our spotlight campaign on OLMC community members. We'll be sharing stories of our community members, past and present, focusing on how their OLMC experience has contributed to the lives they live today.
For our launch of OLMC looks like … ME!, we're highlighting Megan Gravette, OLMC Class of 2012. One of Megan's best memories was playing school basketball, soccer, cross country and softball: "The 8th grade basketball team at OLMC was the most exciting sporting experience I've ever had!"
Megan carried her passion for sports beyond grade school, playing soccer and basketball at Warwick High School. She challenged herself by enrolling in the WHS International Baccalaureate (IB) program, known for its rigor in writing. "OLMC really prepared me for the IB program, particularly grammar, English, and writing," Megan says. "I was very prepared for this experience, more so than peers in my class."
In her junior year, Megan began considering a career in the military, inspired by her grandfather and the encouragement he gave her. Undaunted by its admission rate of only 8 percent of applicants, Megan applied to the United States Naval Academy. Her perseverance and competence were rewarded, and she is now a 3rd classman at the Academy in Annapolis, Maryland. In her recent visit to OLMC to promote the U.S. Naval Academy to our students, Megan shared an inspiring moment. "I was just a plebe, my first year at the Academy," she told OLMC staff members. "But I'll always remember a lesson taught by one of our drill instructors.  'Tough times don't last,' he said. 'Tough people do.'"
When asked to share how she carries her OLMC foundation with her each day, she focused on the school's moral foundation. "My mom always says, 'Keep your goodness about you,'" Megan replied. "OLMC was a great place to get my foundation in goodness."
We are so excited to see the faces and achievements of our alumni. If you have a graduate's name and a story that should be told, please contact Kathy McKenna, OLMC Admissions Coordinator, at
kmckenna@olmc-school.com
.
December 16, 2017 by Mount Carmel in
Community