OLMC Looks Like…Me!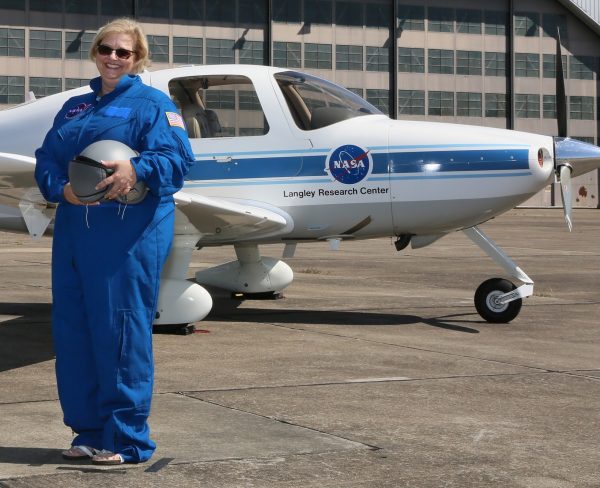 Our community spotlight this month shines on our OLMC science teacher Angela Rizzi. Although you may already know of Mrs. Rizzi's teaching talents, you may not be aware of the vast experience and Catholic perspective she brings to her middle school students every day.
The Rizzi family joined our OLMC parish community before their children were born. Angie had graduated from Purdue University with highest distinction and majored in Industrial Management. She worked as a consultant for Andersen Consulting (now Accenture) and relocated to Virginia. She spent 11 years working full-time as an IT logistics specialist. While working, she bore two children, completed her MBA at William and Mary College, graduated first in her class and taught computer classes at Thomas Nelson Community College.

During her time at TNCC, Angie realized that her college students lacked critical thinking skills and longed to teach these to students at an earlier age. She began substitute teaching computer skills at Trinity Lutheran and OLMC schools. She appreciated the educational philosophy of OLMC, in particular: "Because we focus on the whole child, I can help them develop critical thinking skills. I want to teach the whole child instead of teaching to a standards-of-learning test."
In 2005, her son Louis entered third grade and daughter Rose entered first grade at OLMC School. Two years later, Angie accepted a full-time position at OLMC, teaching math and science. She welcomed the opportunities provided in middle school, saying "I really like teaching the students for more than just one year because I can see their growth."
She also has important insights and empathy for the changes that take place in childhood and adolescence, particularly in light of OLMC's presence in a largely military community: "I attended eleven different schools due to my father's line of work; I really understand what it's like to change schools."
When asked about her teaching presence in a Catholic school, Angie's passion is evident: "I truly appreciate being able to teach science in conjunction with faith. I don't believe these are mutually exclusive, nor does the Catholic Church believe these are mutually exclusive. I want to be able to have an authentic dialogue with students and not have to leave the faith part out. I want to show them how faith and reason complement each other."
Over the past 11 years, Angie's role has expanded to include additional classes, including teaching high school level earth science to 8th graders who elect to enroll for high school credit. Simultaneously, she pursues professional development at Jefferson Lab and NASA, including Long-term Engagement in Authentic Research with NASA scientists (LEARN). This opportunity allowed her to pursue her own research and training in the Global Learning and Observations to Benefit the Environment (GLOBE) project. She shares her experiences and excitement with our OLMC students, enabling them to participate in authentic research within our school.
The Rizzi children have benefited, as well: "The foundation my own children received here was invaluable, and it has stayed with them into their college years." Her son, Louis (OLMC Class of 2011), graduated as valedictorian from Menchville High School and attends Virginia Tech in electrical engineering. Her daughter, Rose (OLMC Class of 2013), graduated from Menchville in 2017 near the top of her high school class; she now studies neuroscience at Virginia Tech.
Having raised her children, Angie is proud of her role at OLMC: "I feel like I really make a difference. I have the opportunity to help with the formation of children. Teaching here is my main ministry. It's not just a job."
January 31, 2018 by Austin Farinholt in
Community