Principal's Welcome
Welcome to the Our Lady of Mount Carmel School!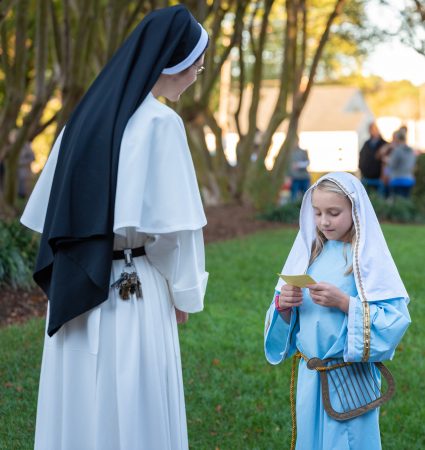 OLMC School is celebrating our 67th year serving families in the Hampton Roads area, teaching the whole child in the tradition of the Catholic Church. With a mission rooted in the gospel and in the Church, the school receives and participates in the great command of Jesus Christ to "go and teach all nations." It is a mission at once "ancient and new" since Jesus Christ is a contemporary of every generation. With morning and afternoon prayers, weekly attendance at Mass, daily religion classes, and the witness of both lay teachers and the Nashville Dominican Sisters, our OLMC school community daily enters deeply into the life and teaching of Jesus Christ. It is both an adventure and a challenge to be His disciples in the 21st century, but one which our students and teachers are ambitious to take. We are seeking to love as God has first loved us on this journey that will bring us to our heavenly homeland.
OLMC School has long enjoyed a reputation for academic excellence, which was magnified in 2009 when it was awarded the National Blue Ribbon of Excellence for its sustained, distinguished academic achievement. The Purple Star recognition granted to OLMC in 2019 acknowledges that we are a military-friendly school, welcoming a third of our population from military families and supporting their students' transition and education.  And in 2020, the Cardinal Newman Society's review established OLMC as the first school in the Richmond Diocese to be on the Catholic Education Honor Roll – attesting to  the strong foundation in faith, academics, morals, and discipline that students have always received at OLMC. The students and teachers, supported by the wider parent community and the parish, engage in teaching and learning in a creative, warm, and Christ-centered environment. Often, I have had the joy, which never becomes old, of hearing our students praised by people in the grocery store, by high school principals, and by coaches of other athletic teams and organizations. Our current students and graduates are frequently reputed for good manners as well as their strong academic preparation. Here they receive and master both the individual skills required to succeed in higher levels of study, as well as the broader picture that unifies all truth, which has its source in God.
The website is a snapshot of OLMC School. I hope you enjoy learning more about us through this venue. However, there is a spirit that dwells in the school that is only experienced by those who come through the front door. I invite you to visit our school, and ask for a tour or a shadow day for your child. I look forward to meeting you soon!
God bless you!
Sister Anna Joseph, O.P.
Principal