Blue Ribbon School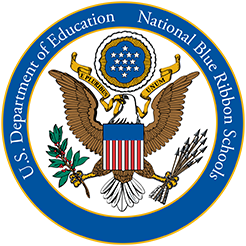 The United States Department of Education each year recognizes public and private schools for the excellence of their educational programs.  A maximum of fifty private schools can be so recognized in any one year.  In 2009, Our Lady of Mount Carmel School was honored as a Blue Ribbon School.  Only 9,000 private and public schools in the United States have been recognized as Blue Ribbon Schools over the 38 years of the program.
What does the Blue Ribbon Schools Award mean?
Blue Ribbon Schools are a trademark of excellence.  They signal to everyone that they attain and maintain high academic standards, that quality is an integral part of the school program.
Blue Ribbon schools tell the story of what can be accomplished in a school which puts student achievement foremost without compromising the co-curricular activities, which make for a well-rounded student.
Blue Ribbon schools build pride for what has been accomplished and acts as an impetus to not just maintain the success, but to grow it and achieve greater things.
To become a Blue Ribbon school is to be nationally recognized as one of a handful of schools which can say to students and parents, "When you leave here to go to another school, you will be prepared for whatever challenges you may face."
Our Lady of Mount Carmel School is honored to be so recognized and pledges to continue to provide the educational experience worthy of a Blue Ribbon School.